Here are some fun digital websites and apps that I used to help enhance learning for preschool students. Of course, it is important for young children to learn primarily through play and hands-on activity. However, some occasion educational technology can help to supplement the learning that is happening at home and in the classroom. Click on each title to take you to the website.
1. STORYTIME ONLINE
Children's books read by different celebrities! Of course, having your parents read to you is number one on a child's list, it is still fun to see someone else doing a read-aloud. Especially when it is Oprah Winfrey or Betty White!
2. BOOKFLIX
Bookflix is another great site that offers videos and read-alouds! It is a paid site but offers a free trial.
3. SCHOLASTIC LEARN AT HOME
Another great site that provides lesson plans and activities for teachers and parents for each grade level.
4. EPIC
Epic provides access to a digital library bank of over 35,000 books for children of different ages.
5. BRAIN POP JR.
Follow Annie and Moby as they explore different topics and inform children through cute videos! This website requires a subscription but offers some free videos.
6. GONOODLE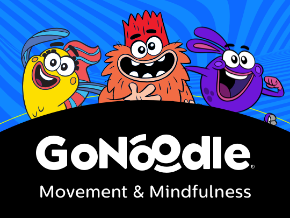 My students LOVE GoNoodle! It has been a lifesaver on a rainy day when we are not able to play outside. It inspires children to move by offering dance and movement videos like Kids Bop and Zumba kids. My students love dancing along with fun songs and coordinated movements. GoNoodle also offers videos that help with calming, breathing exercises and mindfulness.
7. STARFALL
Starfall offers interactive learning activities for elementary-aged students, but many of the activities on the Kindergarten page can be done by younger children. The website is designed to make it easy for young children to use more independently. There is also an app to use on tablets as well.
8.
PBS KIDS
PBS Kids offers many videos, games, interactive activities, and printables for young children and features all of their favorite PBS characters including Sid the Science Kid, Daniel Tiger, The Cat in the Hat, and more!
ABC Mouse is a website designed for children ages 2-8 and offers many reading, math, science, and art activities.
Happy Learning!